Wedding Venue Northumberland
Celebrate your marriage at our perfect, enchanting venue, Marshall Meadows Manor House. With capacity for up to 120 daytime guests and 200 evening guests, you can spend your special day with your loved ones.
Tie the knot in the beautiful Coast House, enjoy drinks and canapes in our tranquil grounds and gardens, before you dine in The Lowry Room. End your day relaxing in our stunning bedrooms in the Manor House which can sleep up to Fifty-Four guests, including our beautifully decorated bridal suite. Following your special day, you will be sure to leave Marshall Meadows to enjoy married life together, with memories you will treasure forever. Our dedicated team will assist you in planning your special day and our packages will ensure the wedding of your dreams
Choosing to share your special day with us here at Marshall Meadows will create a perfect day and a lifetime of memories for you and your guests. It truly is a special place, for a special couple.
Arrive on the day of your wedding with a suggested Ceremony time between 2pm and 4pm. You will have access to one of our stunning bedrooms from 12pm to use as a dressing room. Your guests will then start to arrive and be welcomed in our stunning Conservatory Bar or Cocktail Bar to enjoy drinks from an hour before your ceremony.
When the time comes for your ceremony, your guests will then be invited into our Coast House to say your special vows. After tying the knot enjoy drinks and canapes in our Conservatory Bar and Patio area followed by your Master of Ceremonies announcing you and your guests in for your wedding breakfast in our stunning Lowry Room which is then transformed for your evening reception.
Whether you choose our stunning Coast House, or, weather permitting, our idyllic gardens. We can guarantee the perfect backdrop for you to walk down the aisle and say your vows. After the applause dies away and you've had your first kiss, we whisk you away to capture the first beautiful moments of your married life together in our picture-perfect grounds, whilst your guests are served cocktails and canapés in the most beautiful of surroundings, listening to subtle birdsong or background music of your own choosing.
Returning from your photos, your Master of Ceremonies will announce you for the very first time as a married couple. Leading you through a cacophony of applause as you enter the Lowry Room to give and listen to the speeches and enjoy mouth-watering food, complemented with fine wines and drinks which make up your delectable wedding breakfast.
With the food and drink done and the speeches wrapped up, it's time to kick off the music and let your hair down as your evening reception gets into full flow. Our Lowry Bar, serving continental beers, fine wines and perfectly balanced cocktails, ensures no one goes thirsty. The Lowry Room, with romantic lighting, dance floor and our resident DJ, is sure to get you dancing the night away your feet shout 'no more!'.
When you wake up on the first morning of your happy ever after your special day may have passed but the memories you've created will last a lifetime. Enjoy a final get together with your guests over a traditional breakfast before saying your goodbyes and heading off to begin your life as a very special, married couple.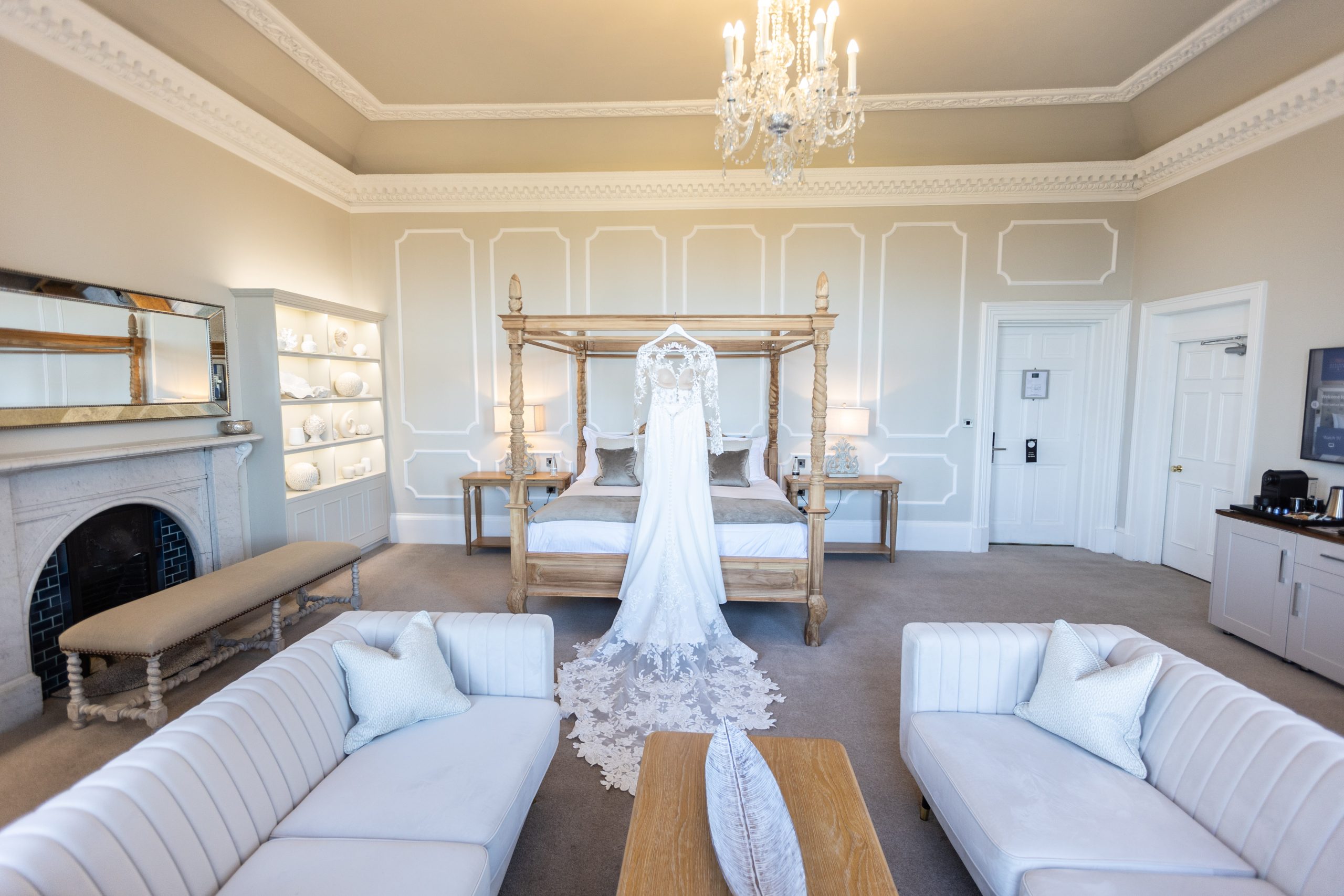 The Bridal Suite at Marshall Meadows Manor House is truly breathtaking. Located on the first floor, our suite features a four-poster super-king bed with soft linen sheets, spectacular sea views from three glorious bay windows, a gentle lounge area, chic panelling, and a hugely spacious bathroom with a freestanding bath and feature a double walk-in shower. The Master Suite is the epitome of elegance and luxury.  And is included in your exclusive venue hire.
Our stunning Coast House will delight and amaze you and your guests from the moment you step inside, with its amazing beamed ceiling, magnificent bespoke chandeliers and exposed stone walls. The decorations for your day are completely up to you. Flowing banners can flutter from the beams, or fairy lights can sparkle as you walk down the aisle. Yet, the Coast House's most intoxicating feature is its incredible floor to ceiling window with glorious sea views over Marshall Meadows Bay. The Coast House is the perfect setting for any wedding ceremony.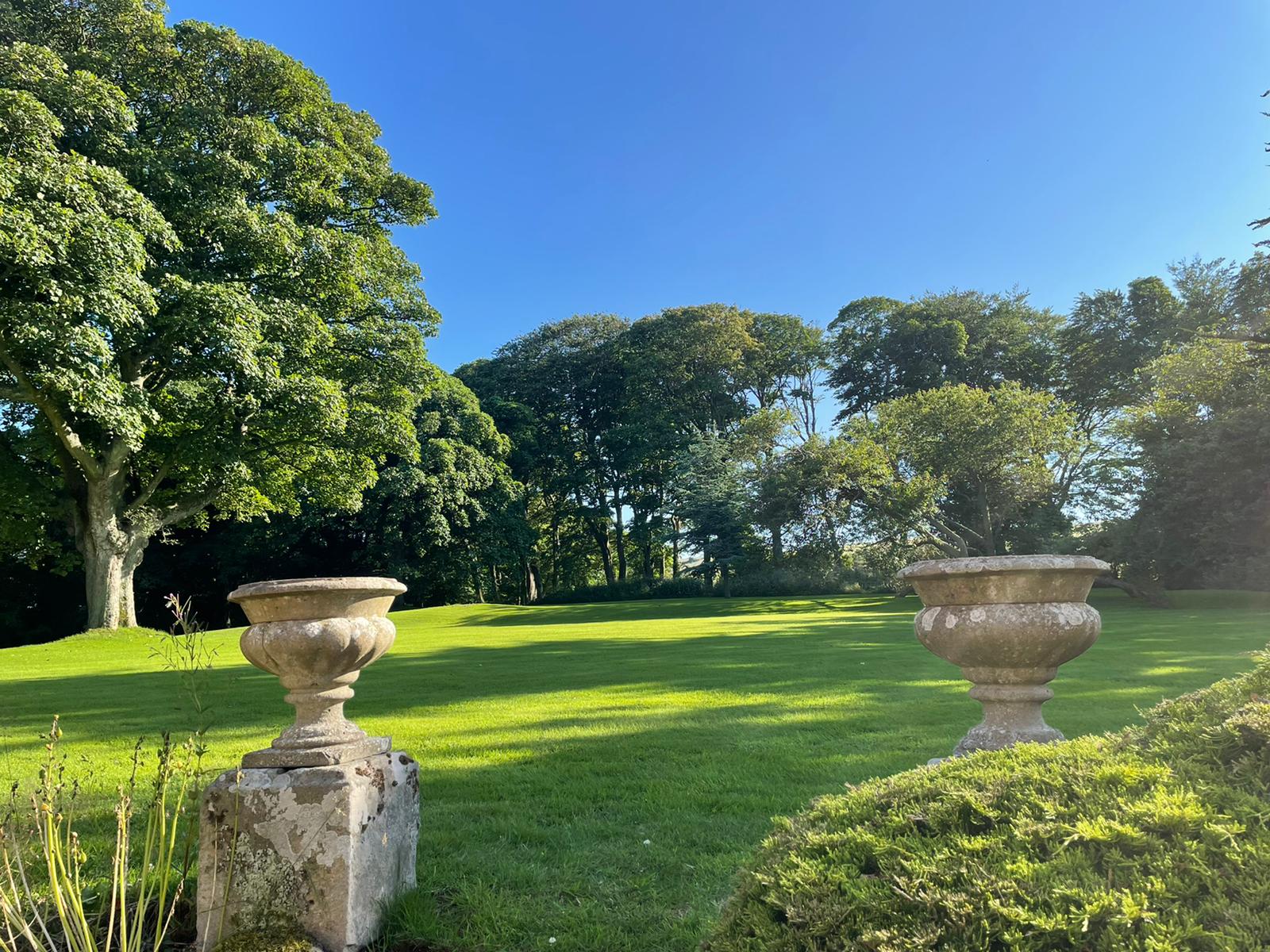 The magnificent gardens and monumental grounds at Marshall Meadows Manor House combine exquisitely manicured lawns with gorgeous colours from the array of flowers filling the borders to create a serene, idyllic and tranquil oasis. With glorious sea views and a mesmerizing clifftop walk leading to the Scottish border in only fifteen minutes, the array of photo opportunities is truly without comparison. The twelve acres of grounds at Marshall Meadows are yours to explore and enjoy, from our patio area to the mature woodland, the entire estate is picture-perfect.
As well as the Bridal Suite, Marshall Meadows Manor House has 3 suites, 3 junior suites, 4 premier rooms and 11 classic rooms. All the bedrooms are individually decorated to the highest standards, with views over either the sea or exquisite gardens, meaning all of your guests can relax in effortless sophistication and style, without compromising on comfort.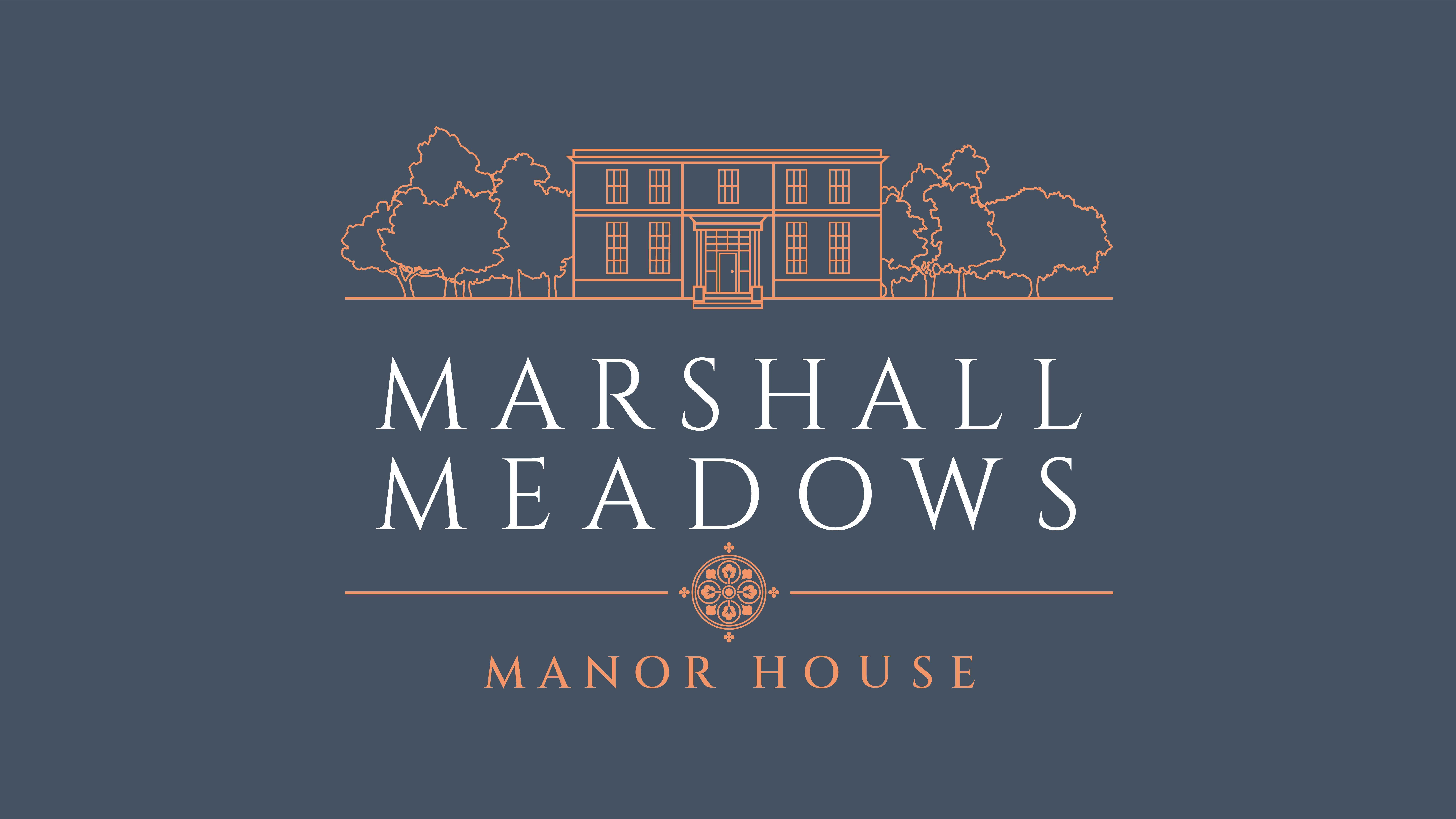 Our world-class team of chefs have created the perfect menus for you to choose from. Using only the finest quality ingredients, every dish is designed to bring out the foodie in every guest.
Alongside our Heritage Menu, featuring the traditional three-course wedding breakfast, we also offer a decadent Feast Menu which will add a touch of theatre to your wedding breakfast. Compliment your reception by adding canapes, an amuse-bouche and a sorbet course to create the ultimate wow factor.
All our food can be matched perfectly with our exclusive wine lists featuring the finest wines from across the globe. Your drinks reception offers a grand selection of drinks, and we can even create speciality His and Hers cocktails, crafted especially for you. All the food and drink on your wedding day makes up your minimum spend, meaning you can pick and choose what works best for you.
At Marshall Meadows we are delighted to have teamed up with some of the best wedding suppliers the North East has to offer. Our suppliers include wedding decorators and florists, photographers, hair and makeup artists and many, many more. Please contact us for our list of recommended suppliers.
Frequently Asked Questions
Marshall Meadows Manor House is the ideal location for corporate events. Whether it is a new product launch, company dinner or team building experiences we can create a bespoke package for you. Please email info@marshallmeadowshotel.co.uk or call 01289 331133 to discuss your requirements.
Birthdays and Anniversaries
Celebrate in style at Marshall Meadows Manor House. Host your party in the luxury and grandeur of the surroundings at Marshall Meadows. Please email info@marshallmeadowshotel.co.uk or call 01289 331133 to discuss your requirements.
Christenings, Baby Showers and Naming Days
The Lowry Room is ideal for Christening and Naming Day ceremonies with capacities for up to 110 guests and we offer great packages for food and drink. We also have the perfect spaces for baby and bridal showers. Please email info@marshallmeadowshotel.co.uk or call 01289 331133 to see how we can make your celebration one never to forget.